Lantzis A. Alcan is certified according to DIN EN ISO 9001:2008. Download Certificate
We focus on our customers. It is of great importance for us to provide a perfect service and thus to meet the specific needs of our customers.
The quality of our products is dependent on the quality of our suppliers. Therefore we actively involve our producers in our quality policy in order to meet the high requirements of our customers.
REACH
REACH – background of the impact on the formulations industries, actions for implementing REACH in Safic-Alcan

Introduction 
REACH (Registration, Evaluation and Authorisation of Chemicals) is the new European regulation on chemical substances and their application, which came into force on 1 st June 2007. This regulation rules all basic aspects of producing and trading chemical products. Imports from non-EU countries are also affected by this regulation. The REACH regulation applies both to particular chemical products and to preparations and articles respectively which contain these chemical substances regardless if these substances are harmful or not. Imported articles are only concerned by REACH if they contain or release substances of very high concern.
The consequences of REACH may be summarised as follows:
REACH supersedes in large part existing EU regulations, e.g. the European Inventory of Existing Commercial Chemical Substances (EINECS).
Requires safer handling of chemicals
Improves the protection of human health and the environment from chemicals risks
The responsibility for the safe use of chemical substances will be placed from the authorities on the chemical industry
Improved flow of information along the supply chain.
Replacement of substances of very high concern by substances which are more less harmless harmful
The cornerstone of REACH is the registration.
Basically , all chemicals must be registered.
The aim of REACH 
REACH wants to assure safe handling of products for all applications. This fact requires a continuous exchange of information between all links of the supply chain to achieve this.
Increased co-operation between manufacturers, suppliers, importers, workers and downstream users means greater transparency throughout the product chain: Suppliers must forward all obtained information to maintain the information flow. End-users will receive more information on the safe handling of products but must also get actively involved, particularly in informing their suppliers of the use of their products.
Which substances are concerned?
REACH applies to the manufacture, import, placing on the market or use of substances on their own, in preparations or in articles. There is a general obligation to register substances in quantities starting at 1 tonne per year. For isolated and transported intermediates or substances used in R&D special provisions are valid.
Exempted substances are:
Non-isolated intermediates, polymers, biocides, radioactive substances, medicinal products, substances used for food and feeding stuffs.
Communication along the supply chain
REACH requires the safe use of products over the entire life cycle to be examined. This means that an intensive exchange of information with producers/suppliers and customers/downstream users is essential to meet these requirements. Therefore Safic-Alcan is currently contacting all its business partners.
Measures in preparation for REACH used by Safic-Alcan
The Safic-Alcan Group is gearing up for the REACH registration. It has dealt actively with the new regulation and took part in several events of national economic organisations (e.g. wdk , IHK , and further other national industrial/economical associations ) in terms of a successful implementation of REACH.
The specially founded REACH Task Force is already working on the identification and allocation of quantities of all substances being subject to REACH which REACH, which are produced or imported by Safic-Alcan from non-EU countries. Similarly the REACH Task Force ensures that all European producers represented by Safic-Alcan will intend to (pre- )register ) register their products and will be provided with all related data.
However, as important technical details, e.g. guiding documents (RIPs), are still under development as well as financial elements, e.g. registration costs, are hitherto not available, we cannot yet completely assess the impact of REACH on our product portfolio .
Despite all our activities and efforts we are therefore not yet fully able to issue a formal guarantee that all products you buy from Safic-Alcan will be continued. Thus the products are all assigned for (pre- )registration ) registration and authorisation. But all customers will be informed in time if the production of raw materials might be discontinued because of disadvantageous cost-benefit calculations or if the evaluation procedure should arrive at the conclusion that a product cannot be authorised.
To be able to provide our customers in the future with the required raw materials we are working on alternative solutions in cooperation with our principals particularly for products with a high hazardous potential.
Timetable of REACH implementation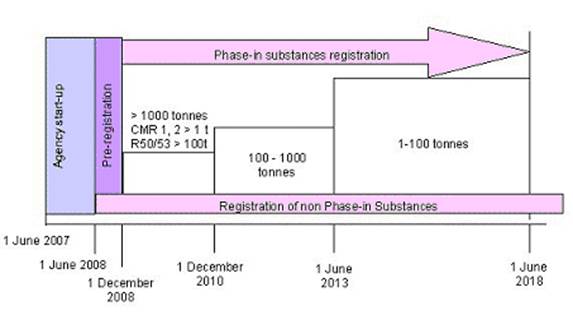 Deadlines of 3½ to 11 years have been set by REACH for registering chemical substances which substances, which are already on the market. The REACH process will begin with the pre-registration of these substances. Information about the substances together with possible required documentation must be filed electronically with the newly created central chemicals agency ECHA in Helsinki. The scope of the data to be provided for registration depends on the quantity and hazardous properties.
Since REACH has come into force on the 1 st of June, June 2007, the preregistration will take place in the period from June 1 st, 2008 to November 30 th, 2008 so that the following transition periods can then be used for subsequent full registration:
Until November 30 th, 2010:
for all products in quantities of > 1,000 tons per year · for products which are harmful to the environment with an N classification (R50/53) from 100 tons per year · for CMR products in categories 1 and 2 from 1 ton per year
Until May 31 st, 2013:
for other products in quantities of 100 to 1,000 tons per year
Until May 31 st, 2018:
for all other products in quantities of 1 to 100 tons per year